Story behind the knife: I bought this back when I was 16 near Mesa Verde on a camping trip from an indian. - I recently 'found' it in my parents basement while cleaning out some old things. It had a crappy vinyl & cardboard sheath so I made a new one. I am probably going to pull the blade and heat-treat it, and re-epoxy it back in the handle.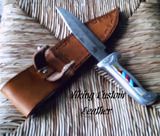 ---
US NAVY VETERAN
Navy Qualified Tactical Action Officer
Navy Qualified Sharpshooter (Pistol, Rifle)
NRA Basic Pistol Instructor
"Vigilia aeterna est pretium libertatis"