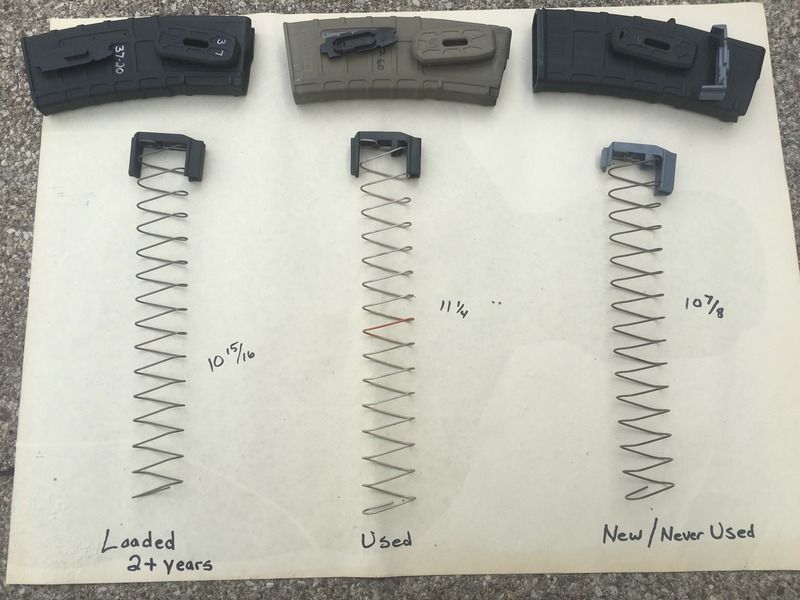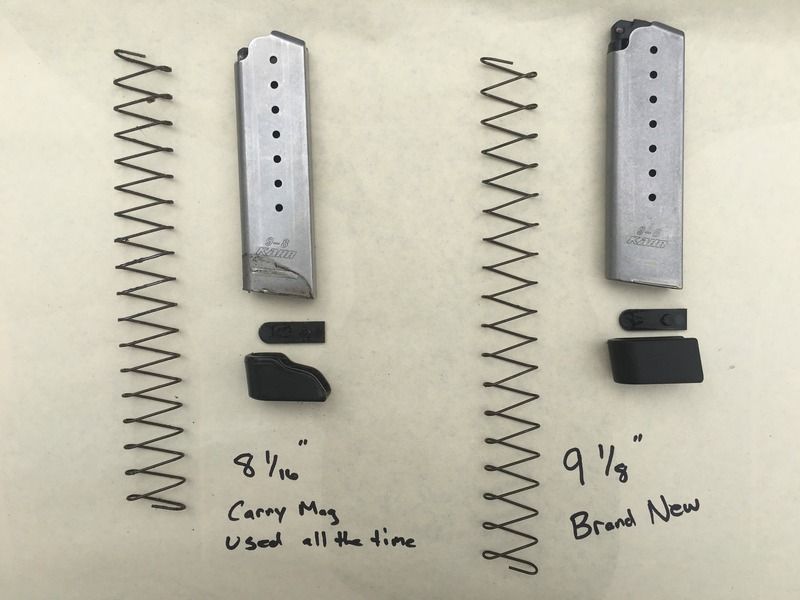 There is a myth that keeping your magazines loaded wears out the springs. This is simply not true and the easy explanation is if you take a paper clip and bend it once it is still good to go but if you continue to bend it back and forth sooner or later it will weaken and eventually break. That explanation is not 100% accurate but the relation is constant working of a spring is what wears it out. That constant compression and decompression of the spring is what weakens it.
What I find with AR style mags is they have a slight twist to them when they are new and as they are used and abused they lose that twist and the tension becomes weaker. When removed from the magazine body the weaker spring lays more flat and is longer but the metal is fatigued. The less used or new mags are a bit shorter because of that twist and the metal is not fatigued.
Not all springs wear the same and the two photos are an example of that. The first photo is of (3) 30 round Magpul Pmags. The Pmag on the far left was loaded with 28rds for over two years, the middle Pmag is a range mag and has hundreds of compressions and decompressions, the Pmag on the far right has never been used. You can see the middle mag is the longest but when the magazine is fully assembled it is noticeably weaker but still functions. The magazines on each end are almost the same length and still have that twist, there is almost no difference in the new mag and the one that was loaded for over 2 years.
Now pistol magazines tend to compress as they weaken as the second photo shows. The photo is of (2) Kahr CW9 8round magazines. The one on the left was carried loaded for over two years and used at the range on almost a weekly basis. This magazine has hundreds if not close to 1000 compression and decompressions. The mag on the right is brand new and is approximately 1 inch longer. The used magazine still functions but I have retired to training use only.
What I want you to understand is that magazines are like the tires on your car. They are going to wear out over time and use. An unloaded magazine is worthless so budget for magazines. If they are constantly being used a good rule of thumb is to retire them to training use at certain point. So don't believe the myth, keep those mags loaded!