About 5 weeks ago I ordered a holster from
Alien Gear Holsters
. I would have written this review a lot sooner, except Greene County decided to take 5 weeks to get my wife and I's CHLs sent to us. For the past 5 weeks I have been carrying my AG holster "dry" until we got our CHLs two Fridays ago. This past week I have been carrying my AG holster "wet". Here is my review of the Alien Gear Holster, an IWB holster.
-----------
I was turned on to Alien Gear Holsters by a friend of mine. He sent me the link to the website for me to check out. I checked out their website and what they have to offer. Currently, Alien Gear Holsters (AG) produce IWB style of holsters. They offer a very broad range of holsters for just about any handgun you can think of.
I have been wanting to get another holster for some time now, but everywhere I was looking the companies were wanting $60 or better for their holsters. I checked out AG's price and found out theirs are going for about $30. I liked that part, but was skeptical thinking it might be some cheap knock off. However, $30 is not much to loose to test a product so I ordered mine.
Before our CHLs came in I wore my AG Holster "dry" to get used to the holster being there. When you first put it on it feels a little bulky, but not bad. As the day goes on, your body heat softens the leather and it conforms to your body. At this point you tend to forget it is there. Once our CHLs came in I was able to carry my pistol around outside of the house. Even with the weight of the pistol, the AG Holster was still comfortable to ware.
The shell of the holster is fully adjustable to tighten or loosen it to fit the comfort level of your draw. Also the metal clips are fully adjustable. You can raise or lower the holster. You can also adjust the CANT to more or less CANT. You can also swap out the metal clips for leather clips/straps upon ordering.
There are some small issues when getting your wallet out if you keep yours in your back pocket. Occasionally you may even get what I call, "butt-pinch". That is when your holster and your wallet come together as you sit down and part of your butt cheek gets between the two. Yeah, it lets you know right away that you need to adjust some things. :surp:
The thing I like about the holster is "weight displacement". Unlike other holsters that centralize the weight of the pistol to a point on your belt, the AG holster spreads the weight out. This helps with the heavier high-cap pistols and full size pistols. I carry an FNS-40 with 14+1 capacity. Fully loaded it is a good couple of pounds.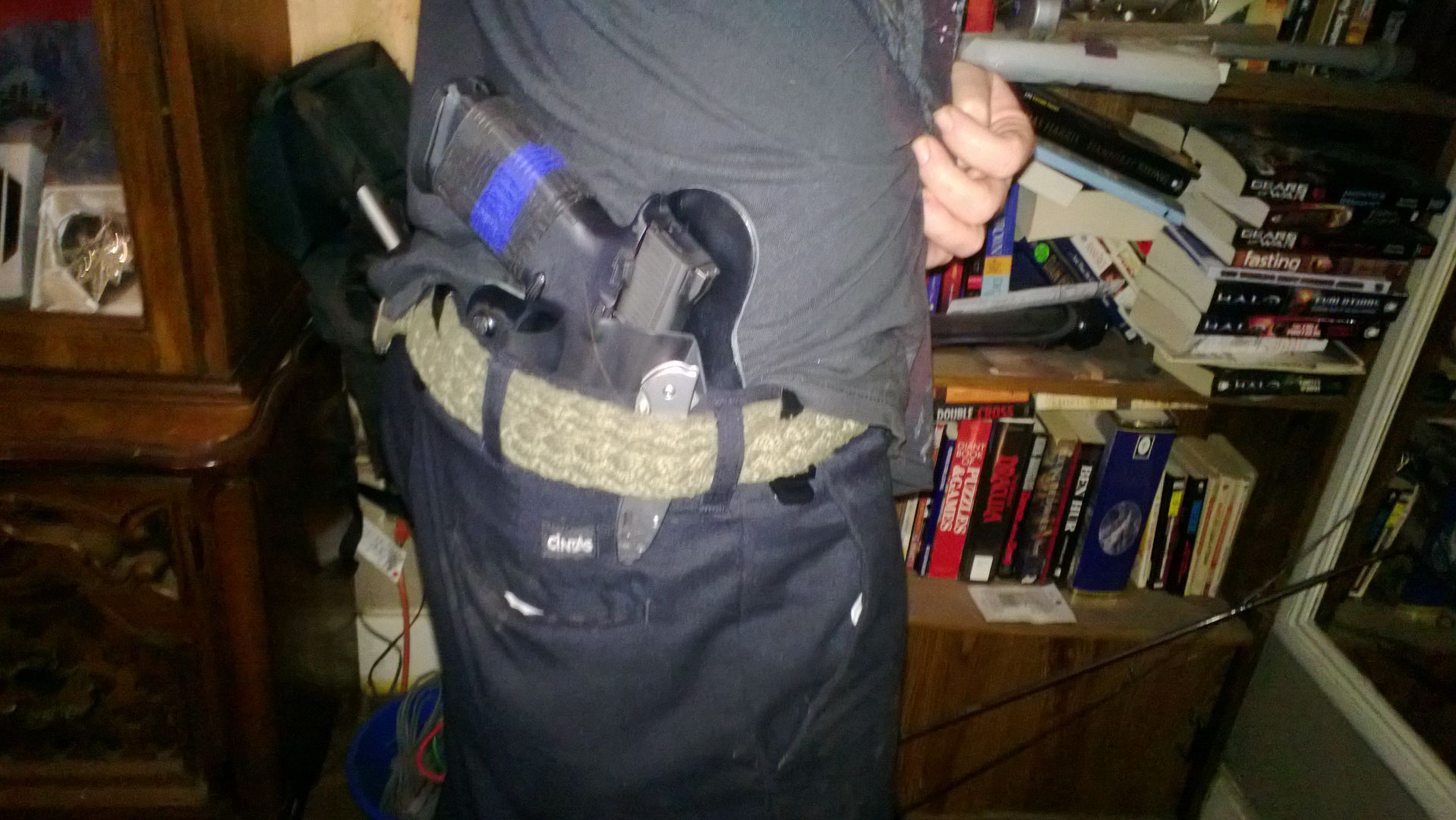 Overall I would recommend the AG Holster to anyone wanting to CC their pistol. I do recommend a good belt though. The one in the picture is currently all I have in line of belts. Whether you OC or CC a good belt is always the thing to have. Fortunately, the weight displacement that the AG holster provides makes things a little easier. :egrin:
Alien Gear Holster rating - 4 out of 5 stars (lost a star until butt-pinch is figured out)