I was proud to see I got a call out from Jim on the front page, if only because it demonstrates I met with success on my jaunt to Columbus. But, since it was BFA that asked me and others to find an example of wrongly convicted people so many years ago (and BFA who still never has) I thought it'd be fair to post what I think is a completely reasonable and pro-gun counterpoint to burden shifting under SB180. I'm sure BFA will grant me the indulgence given that, in something I considered an act of class, decency, and respect, I didn't call them out by name in my public testimony. I kind of had the approach that friends can disagree at least somewhat respectfully.
Specifically, I believe that the bill legalizes killing CHL holders. I've listened to the testimony of those from both sides, and frankly, I think BFA's position on this bill is childish, like a toddler looking at something someone else has (which incidentally doesn't work well) and demanding to have it "just because."
The effort related to the law engages in the hubris to which many of us in the firearms community treat ourselves. Namely the assumption that we will win a firefight. As a person who is both happy when criminals are killed by people defending themselves and who also deals with the families of dead people who failed in trying to do so, I have the experience to tell you, justice does not exist for your death under this bill. Ever.
That is, if you die, your killer will go free. No rational jury can be convinced beyond a reasonable doubt that an armed dead man wasn't a threat to a live man who enjoys, at all times and places as established by this law, a presumption of self defense. As an ethical prosecutor, I won't even pursue a case where I don't believe that a rational jury could make such a finding behind a reasonable doubt. ,aybe you don't care about that. Maybe you fear the zero cases, ever, in the entire history of the state of Ohio, where even in the most nuthouse liberal jurisdiction someone has been wrongfully convicted so much that you don't care if the law avenges your death.
I don't. I want vengeance. In this life and the next. Don't miss the footnote in the attachment.
Written testimony is attached, I couldn't figure out how to make it go in the right order. I'll be anxiously awaiting the
actual name
of an actual person who was actually wrongfully convicticted by reason of this standard of law.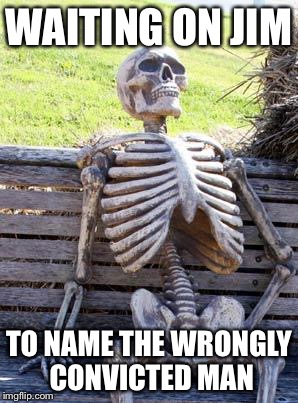 via Imgflip Meme Generator